Keynote Customer Centric Culture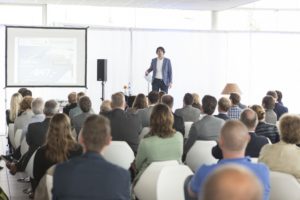 Customer Experience (CX) is the #1 way for most companies to differentiate themselves from their competition. Creating a winning CX requires hard work. Everyone in the organisation needs to contribute to that most important goal: serving our customer better today than we did yesterday. The only way to do this is to build a customer centric culture in your organisation. A culture that stimulates and facilitates everyone in your organisation to turn customers into raving fans.
Over the past five years Sydney Brouwer researched companies that consistently turn employees and customers into fans. He found six building blocks that together form a customer centric culture. In this keynote Sydney shares these building blocks. The building blocks are all substantiated by real life examples and stories from companies that already build customer centric cultures or failed miserably.
Key insights
Key insights from this keynote are:
"Culture eats strategy for breakfast" is a famous quote by Peter Drucker. How can businesses shape their culture so that it contributes to creating raving fans?
Leaders have a huge impact on culture. How can managers build a customer centric culture? What should they definitely not do?
Winning outside means starting inside. How do you find the right people that are internally motivated to turn customers into fans?
Energetic and entertaining
Sydney is known for his energetic and informal style. This keynote is as much entertaining as it is educating. Participants will return home with insights, inspiration and concrete steps to start building a customer centric cultures in their own company. They will have learned this while having a big smile on their faces.
Do you want to book a keynote? Or contact Sydney with any questions? Fill in the contact form below or send an e-mail to and Sydney will reach out to you very soon.
We are looking forward to working with you.
Masterclass
Kom naar de Masterclass Klantgericht Leiderschap!
A sample of the companies Sydney worked for:
Erik Wiechers

(CEO DTG)

"If you are looking for a great speaker on customer centric leadership: call Sydney! He truly inspired our management team."

Remco Rovers

(Partner 12mprove)

"When you need inspiration from your customers perspective, call Sydney. He will take you, your management en your employees on a customer journey you won't easily forget. And in the end your customers will benefit and that's what you want isn't it?"

Christophe Lembregts

(Rotterdam School of Management)

"Sydney convinced me that he is one of the most interesting speakers on customer experience management in the Netherlands."

Mandy Phoa

(Mei An)

"Sydney is a very energetic and passionate speaker. He knows how to captivate the audience and to convey his important message in a funny and pleasant way. He uses beautiful and lively anecdotes, so you stay engaged the entire presentation."

Marcel Veltrop

(Head of Corporate Clients, Rabobank)

"With his enthusiasm, interaction with the audience and appealing examples, he has stimulated everyone - in line with our objective - to translate the topic to their own organisations. Compliments!"

Participant

(Multichannel Conference)

"One of the few presentations where everyone was smiling and was inspired when they left the room!"